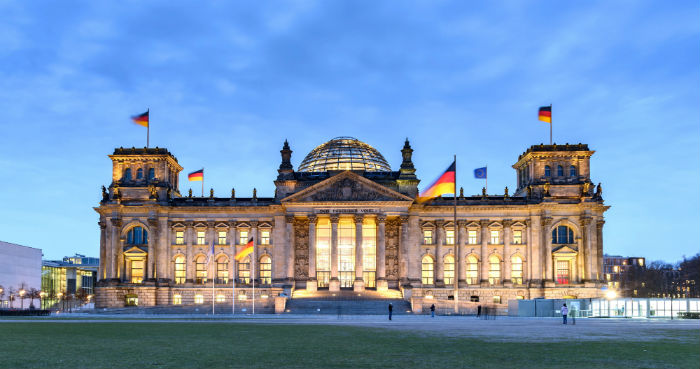 A free hand or a free market? How competitive is public procurement in Europe? Part one of a three part series
In this series of articles, we will explore how competitive the overall public procurement tendering process is for European countries. The most value for money in public procurement is linked to a competitive tendering process. This means encouraging multiple bidders to present offers. There are many ways to do this, all of which have a demonstrable effect on value for money of a purchase. Data was extracted from Tenders Electronic Daily or TED, one of the many data sources we use for tenders and contracts data. We looked at data over the past three financial years (FY), counted as between 1st April and 31st March.
This first part of a three part series explores the average response time for tenders. There needs to be enough time for any bidder to submit a suitable response. This encourages more than just the incumbent supplier to bid. Failure to do so at best makes the process uncompetitive and at worst makes the process collusive.
Average response time for tenders (3 FY average)
The top five countries who provide the most time for bidders to respond are the Netherlands, Denmark, Serbia, the UK and Sweden. 
All five countries have seen improvements over the past three financial years, that is to say the time for response is increasing. Meanwhile, the TED average stands at 40 days and is also improving. The top three: the Netherlands, Denmark and Serbia, are all significantly ahead of average at 77, 61, and 50 days respectively.
The averages for the top 5 are somewhat close to the TED average suggesting that the other side of the average provides between 35 and 40 days. The data generally supports this with only Malta, the lowest, falling outside of that window. 
Areas of improvement
When we look at the bottom five, 3 have seen response times getting shorter and therefore worse over the past three years. By contrast the top 5 has seen double digit percentage improvement. There is grounds for optimism however. The lowest of the TED European countries, Malta, gives an average of 31 days to respond. This in itself is not generally an unreasonable period of time to respond to a call to tender. 
European countries on average provide at least a month to respond to tenders which is generally sufficient for all but the largest contracts. In the next part of the series, we'll be looking at tenders with an abnormally short description and title. A lack of data in description and title is another key indicator of uncompetitive tenders.
You can find out more about our research at https://www.spendnetwork.com or look at our data at https://openopps.com.
February 28, 2021
Do Framework Agreements Have Value?
-Ian Makgill Framework agreements are like umbrella agreements, and are usually made with a group of providers to supply a set of...
February 28, 2021
NSW Aims To Reserve Procurement Budgets For SMEs
We're always pleased to see governments around the world improving their procurement processes, by broadening opportunities for all types of business to...
February 28, 2021
Creating Synergy Between Politics & Procurement.
The need for administrations to act at pace is often at odds with the processes and procedures needed for good procurement. If...
February 28, 2021
Canada Launches Green Procurement
We are always pleased to see governments taking steps towards better procurement practices. Recently, the Canadian Government took a step forward for...
February 28, 2021
Not All Data Is The Same: Rules For Data Integrity.
-Ian Mackill Not all data is the same. It might have come from the same source, but how it gets treated is...
February 4, 2021
Post Brexit Procurement – What Will Change?
With the Brexit transition period officially behind us, it's worth considering the potential impacts of Brexit on Government procurement into the future....
February 28, 2021
Where Next For Data Led Procurement in Europe? A Discussion.
The They Buy For You  Project (TBFY) concluded on 31 December 2020. To mark the occasion, we look back at three years...
February 28, 2021
Spending $400bn – A Demanding Task For Biden.
-Fiona Hunt As my colleague Ian wrote this week, governments are increasingly looking to procurement to deliver better social outcomes. President Biden...
January 31, 2021
Social Procurement Demands Data
-Ian Makgill Social value is going to be a critical feature of public procurement in the coming years. The urge to 'build...
January 31, 2021
Where Are All The Small Businesses?
While 2020 was an incredibly rocky road for many businesses globally, in public procurement it was SMEs in particular who lost out,...
January 31, 2021
Are UK, France and Germany Having a Competition Crisis?
We recently completed a study of European government procurement changes in the three years up to and including 2020, to assess the...
January 31, 2021
How Long Does It Take A Department To Publish A Contract Notice?
Public sector organisations have, according to guidance, thirty days to publish details of their contracts online. So, thirty days after a contract...
January 31, 2021
Controversial Food Box Contractors Face Scrutiny
There is increased scrutiny for the suppliers of food boxes provided to the chronically ill and those asked to shelter through the...
January 31, 2021
£550 Million Missile Contract Signed.
Yesterday defence Defence Minister Jeremy Quin announced a £550 million contract was awarded for new surge-attack missile The contract award promises 'hundreds...
January 31, 2021
Time To Build More Open Products For Government
-Ian Makgill, Founder Spend Network Just before Christmas, DXC (formerly Hewlett Packard) was awarded a contract for £430,000 by the Business Services...
Newsletter
Compelling research, insights and data directly into your inbox.