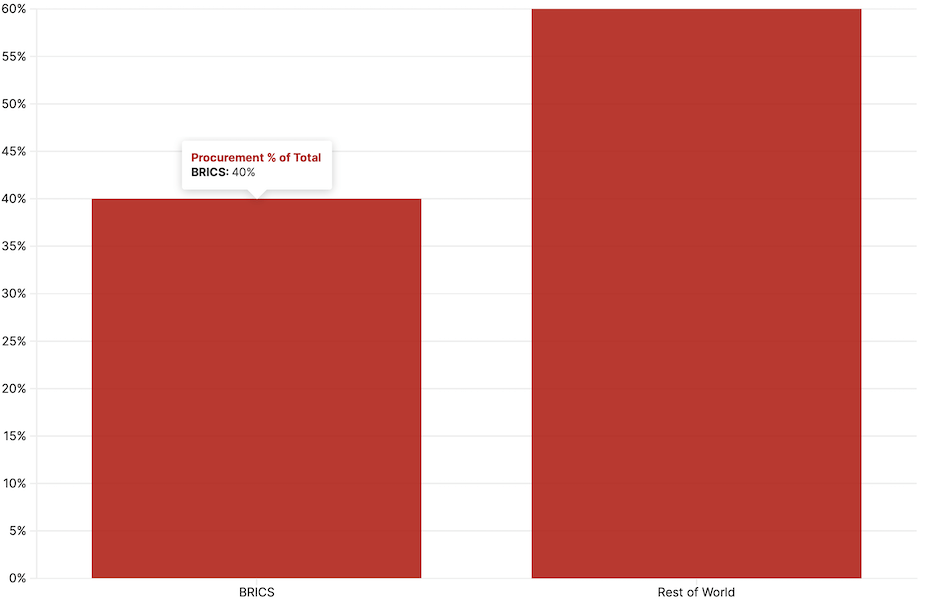 How Does Procurement Compare By Country?
This simple graph gives us a fascinating insight into the respective size of government spending globally. From the recent report by Open Contracting Partnership and Spend Network, on quantifying global spend, this graph illustrates the dominance of the BRIC countries (Brazil, Russia, India, and China)when it comes to government spending, making up 40% of annual government procurement.
Comparatively, the collective of EU plus UK makes up approx 19%, with the US not far behind on 15%.
In total, these markets, plus the remaining 24% from the rest of the world, make up around US$13trillion annual spending by governments.
It's almost impossible to conceptualise this number, it's almost beyond our frame of reference.
But it's important to think about it, and particularly important to consider the transparency of governments on where they spend money, and with whom.
This is where the work of Open Contracting and Spend Network becomes so important. Their estimates are that just US$362.8 billion was openly published. That's just 2.8%.
Of that 2.8%, the USA publishes the most contract data with US$117.8 billion or 6.5% of total spend being transparent.
The UK follows closely behind with US$101.8 billion or 28.4% of total spend being openly published.
And by 'openly published', or transparent, we mean that all data and documents are disclosed at all stages of the contracting. We know who has bought what from whom and for how much.
Transparency improves competition and provides greater effectiveness as well as improved service delivery.
Consider the global impacts of even the smallest increase in transparency, to economies and society as a whole.
To talk to us about our data, and how we can help you do more business with government, get in touch.
GRAPH NOTES: China dominates the BRIC countries' public procurement expenditure. The EU27+1 accounts for 19% of the worldwide total, compared to the US' 15% BRICs = Brazil, Russia, India and China EU28 = All 28 members of the European Union at the time of writing: Austria, Belgium, Bulgaria, Croatia, Cyprus, Czechia, Denmark, Estonia, Finland, France, Germany, Greece, Hungary, Ireland, Italy, Latvia, Lithuania, Luxembourg, Malta, the Netherlands, Poland, Portugal, Romania, Slovakia, Slovenia, Spain, Sweden, United Kingdom Latin America = Argentina, Bolivia, Colombia, Chile, Costa Rica, Cuba, Dominican Republic, Ecuador, El Salvador, Guatemala, Mexico, Panama, Paraguay, Peru, Uruguay
March 25, 2021
Procurement Transparency Suffers Under Covid-19
Government publishing of procurement notices has fallen significantly following the global spread of Covid-19. The total number of tender notices published globally...
March 20, 2021
South Africa, Kenya lead the way on African transparency.
Both South Africa and Kenya lead the way in procurement transparency according to our data, South Africa and Kenya publish more tender...
March 16, 2021
Missing Data Is A Known Unknown
There is a famous quote about the fragility of knowledge by Donald Rumsfeld, the hawkish US Secretary of Defence during the Iraq...
March 4, 2021
NZ Government Pharmaceutical Procurement Review
The New Zealand Government is taking steps to improve its procurement of national medicine supply through a review process. The Pharmaceutical Management...
February 28, 2021
The Problem With Frameworks
-Ian Makgill In my last post, I covered off framework agreements, and the advantages of using them for both government and suppliers.In this...
February 28, 2021
Do Framework Agreements Have Value?
-Ian Makgill Framework agreements are like umbrella agreements, and are usually made with a group of providers to supply a set of...
February 28, 2021
NSW Aims To Reserve Procurement Budgets For SMEs
We're always pleased to see governments around the world improving their procurement processes, by broadening opportunities for all types of business to...
February 28, 2021
Creating Synergy Between Politics & Procurement.
The need for administrations to act at pace is often at odds with the processes and procedures needed for good procurement. If...
February 28, 2021
Canada Launches Green Procurement
We are always pleased to see governments taking steps towards better procurement practices. Recently, the Canadian Government took a step forward for...
February 28, 2021
Not All Data Is The Same: Rules For Data Integrity.
-Ian Mackill Not all data is the same. It might have come from the same source, but how it gets treated is...
February 4, 2021
Post Brexit Procurement – What Will Change?
With the Brexit transition period officially behind us, it's worth considering the potential impacts of Brexit on Government procurement into the future....
February 28, 2021
Where Next For Data Led Procurement in Europe? A Discussion.
The They Buy For You  Project (TBFY) concluded on 31 December 2020. To mark the occasion, we look back at three years...
February 28, 2021
Spending $400bn – A Demanding Task For Biden.
-Fiona Hunt As my colleague Ian wrote this week, governments are increasingly looking to procurement to deliver better social outcomes. President Biden...
January 31, 2021
Social Procurement Demands Data
-Ian Makgill Social value is going to be a critical feature of public procurement in the coming years. The urge to 'build...
January 31, 2021
Where Are All The Small Businesses?
While 2020 was an incredibly rocky road for many businesses globally, in public procurement it was SMEs in particular who lost out,...
Newsletter
Compelling research, insights and data directly into your inbox.