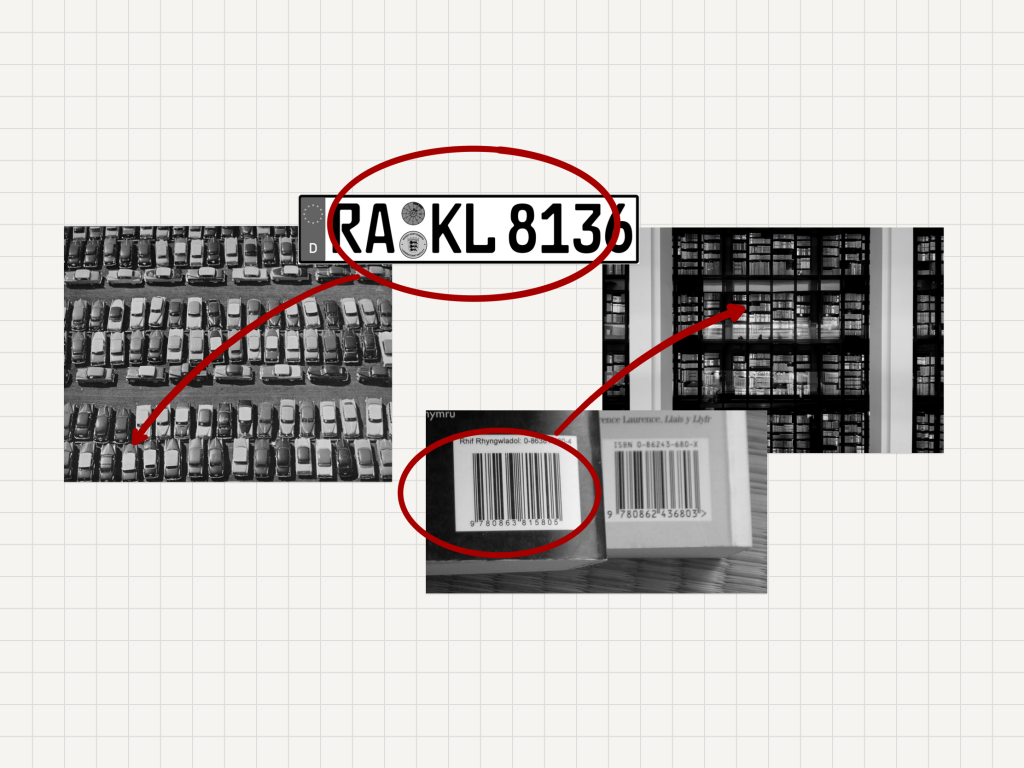 The little codes that hold our world together
Have you noticed that your email address is completely unique? Its obvious that this would be true, but it bears thinking about. In all the millions and millions of email addresses there isn't another like yours, if there was another like yours there would be no way for your colleagues and friends to send a note to just you.
Uniqueness is a critical feature that is required for email to work. We've known that uniqueness is important for handling information: your address is unique, published books have a unique ISBN number and cars have unique registrations.
We do this so that we can tie our information together effectively, and once that's in place we can build services on top of that. Imagine an insurance service that didn't have a way of differentiating between cars, or a library that couldn't differentiate between two books with the same title? Identifiers look geeky and impenetrable, but they're actually the glue that holds the service together. To libraries ISBN codes are as important as the shelves and the roof, they are part of the infrastructure that our services are built on and without them, our services would struggle to function.
Government has been trying to bring the codes that are used in the different parts of the public sector together into a single set of codes. The work of the registers team is an important in building a full understanding of what the public sector is made up of, but it is a combination of lists that get updated, rather than a canonical register of every body in the public sector. Its a great start, but it needs more investment and proper support from within government.
The lack of well organised, unique codes for public sector bodies is especially problematic when you try to understand an activity that happens in lots of different parts of the public sector, like giving a grant for instance. Grants are awarded by all sorts of public bodies to all sorts of other bodies, but when there are no codes for the organisation that awarded the grant, it can be really hard to 'zoom out' from individual grants and try and understand how those grants might be grouped together. So, without codes you can't know how many grants were made by local councils, or how many codes were made by organisations in London, or who received the money.
In fact, if you try to do any form of financial analysis across different parts of government, you quickly become unstuck, because we don't have the underlying infrastructure to link data back to a single record. Which means that people use the data references that they think is best, but that good intent doesn't work when you try and analyse the data.
Below is the list of different names that the Department of Health used to describe itself itself in contract award notices between 2016 and 2018. Eleven of these records describe the same organisation, one describes two organisations:
Ambulance Radio Programme, Department of Health
Department Health
Department of Health
Department Of Health
DEPARTMENT OF HEALTH
Department of Health (DH)
Department Of Health (Government)
DoH — Public Health Agency
The Department of Health c/o Ambulance Radio Programme
The Department of Health c/o Ambulances Radio Programme
The Secretary of State for Health acting as part of the Crown through the Commercial Medicines Unit (part of the Department of Health)
The Secretary of State for Health acting as part of the Crown through the Department of Health
In computing terms we call codes like ISBN and passport numbers identifiers, because the codes let us know that we're referring to one, specific thing. In the same way that not having proper identifiers means that our letters go missing and our books don't get returned, when we don't have identifiers for public organisations, our understanding of grantmaking, procurement and budgets is always going to be compromised; data goes missing and simple questions like "Which councils have given grants to Barnardos?" can't be answered.
Without identifiers, we can't analyse what we should be able to analyse, but can't even know what data is missing. Instead, we fumble around trying to guess what is happening. However, even when codes do exist, we're not using them properly. Every company and every charity has a unique identifier that can be used when they receive a grant or a contract, but when public bodies publish data about who won those grants and contracts don't add identifiers, so we can't understand who awarded the grant or who received it.
You might think this doesn't matter, but when we spend £300bn every year with suppliers, and when Carillion went into administration, the government had to ask Carillion where all of their contracts were. If we don't know where the contracts are, how can we make sense of whether there's a risk to the taxpayer and the service user from poor contracting?
January 12, 2021
Controversial Food Box Contractors Face Scrutiny
There is increased scrutiny for the suppliers of food boxes provided to the chronically ill and those asked to shelter through the...
January 7, 2021
£550 Million Missile Contract Signed.
Yesterday defence Defence Minister Jeremy Quin announced a £550 million contract was awarded for new surge-attack missile The contract award promises 'hundreds...
January 7, 2021
Time To Build More Open Products For Government
-Ian Makgill, Founder Spend Network Just before Christmas, DXC (formerly Hewlett Packard) was awarded a contract for £430,000 by the Business Services...
December 23, 2020
New Year, New Tool. Introducing Our New Classifier.
Our New Solution To Classification In 2020, we developed an advanced classifier. This tool adds multiple labels to procurement notices based on...
December 18, 2020
The buyers that spoiled Christmas 2020
Welcome to our annual run down of the buyers that are most likely to spread misery for suppliers at Christmas. Here are...
December 17, 2020
Why Blacklisting Is Harder Than You Think.
Sadly, we don't have to look far to find examples of suppliers being accused of illegality. The Grenfell enquiry heard evidence that...
December 17, 2020
Build Back Younger?
Joe Biden's exhortation to 'build back better', which has also been used by Boris Johnson, is broadly equivalent to the more arch...
December 17, 2020
UK Government Launches Plans To Transform Procurement.
The UK government yesterday launched a green paper, a series of proposed changes to procurement rules, purporting to put transparency and increased...
December 23, 2020
More Governments Improve Transparency.
It is always encouraging to see government procurement transparency improving around the world. Brazil and Cote d'Ivoire have both recently applied to...
December 14, 2020
Life in The Fast Lane
The NAO has just published a report criticising the Government for using a 'fast-lane', where suppliers that were known to MPs were...
December 14, 2020
Adding Value
We're analysts. We work with data, every day. We know what works and what doesn't work. We know about values that can't...
December 14, 2020
Visualise your data
Harness the power of procurement data to make informed decisions. Using our advanced analytics, we can create custom visualisations and dashboards for...
December 14, 2020
Clean and enrich your data
Cleanse all of the supplier records within your organisation, creating a single, consolidated record with rich information to help you make better...
December 17, 2020
Classify your data
We have built a state-of-the-art algorithm just to categorise procurement data. Work with us to categorise millions of records with stunning accuracy...
December 17, 2020
Analysis for the $13trn global market
If you need authoritative, evidence-based insight to apply to a broader strategic challenge, we're here to help. Unlike other consultants, we start...
Newsletter
Compelling research, insights and data directly into your inbox.