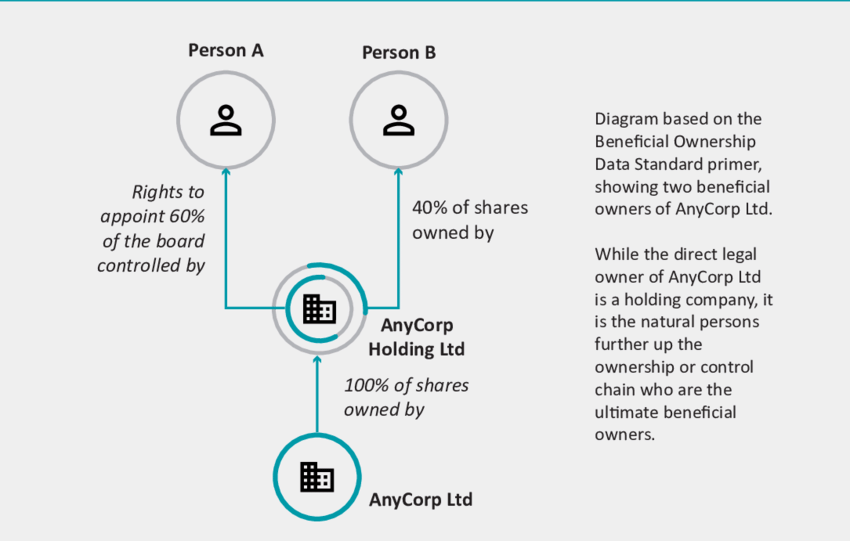 Why Beneficial Ownership Data Should Interest You.
The Beneficial Ownership Data Standard (BODS) is an open data standard for publishing data on company ownership and control
. You can find out more about the standard and the initiative to publish BODS data
here.
Over
80 countries
are already committed to using the standard, so we can expect to see more of this data in the coming years
. So why is this important to buyers and suppliers?
What The BODS Means For Buyers
Open Corporate Data.
Almost all data on corporate structures
is held
in private databases with proprietary models that prevent buyers from sharing their data with others
. Open data allows buyers to share their analysis with others.
This makes it easier for buyers to collaborate on purchasing and to hold suppliers to account
.
Demand Aggregation.
Understanding a corporate structure gives buyers the ability to track spend across all entities within that structure
. This BODS data can leverage total spend in return for better prices.
Better Social Value Procurement.
Better data on corporations makes it possible to determine their social value.
For example, are suppliers
genuinely
small businesses, or are they owned and controlled by a large company
? Are suppliers located in areas of poverty? Do they have minority ownership? BODS data makes it easier to install social value procurement programmes.
Better Counter Fraud Analysis.
Assessing conflict of interest requires the review of first-order suppliers and potential conflicts for the officers of controlling companies
. Open data on corporate control is a vital tool in combatting procurement corruption.
Better Risk Analysis.
Enron and other financial failures have shown the need to check the primary contractor as well as the financials of other organisations within that structure, which could
be used
to hide debt or losses
.
Better Market Intelligence.
In public procurement, publishing BODS data alongside open contracting data makes it easier to understand the dynamics of a market
. Questions such as, who has the majority market share? or, is a market that is becoming more or less competitive?
Buyers can find the best performing suppliers and use the data to secure more competition in public markets, securing lower costs and more innovation
.
What The BODS Means For Suppliers
Insight Into Corporate Structures.
BODS will also impact suppliers, who will need to be ready to share information about their companies
. They can expect greater scrutiny of both their ownership and structures.
This could be particularly relevant for suppliers to Government, as it could mean companies will have to detail any offshore structures
.
Greater Competitor Insight. S
uppliers will able to scrutinise the structures and activities of rival suppliers.
When BODS data
is combined
with open contracting data, it becomes easier to identify contracts awarded to competitor suppliers
. This provides opportunities to target those contracts at renewal.
Greater Focus On Individuals.
 BODS can also record data on individuals, both as company directors and officers
.
As a result, individuals are likely to face a greater level of scrutiny, whether as a company owner or as an individual with control over a network of companies
.
As BODS data becomes more prevalent, it will be easier to track whether those who contribute to politics or public affairs are also beneficiaries of public funds, either
directly
or through a network of companies
.
Increasing the transparency of contracts provides new tools for buyers and greater scrutiny of suppliers
. Suppliers need to be ready for such scrutiny and turn it into opportunity.
At the same time, buyers need to be ready to exploit the options that transparency provides for improving market efficiency and preventing corruption
.
To talk to us about your procurement data needs, get in touch at contact@openopps.com
February 28, 2021
Do Framework Agreements Have Value?
-Ian Makgill Framework agreements are like umbrella agreements, and are usually made with a group of providers to supply a set of...
February 28, 2021
NSW Aims To Reserve Procurement Budgets For SMEs
We're always pleased to see governments around the world improving their procurement processes, by broadening opportunities for all types of business to...
February 28, 2021
Creating Synergy Between Politics & Procurement.
The need for administrations to act at pace is often at odds with the processes and procedures needed for good procurement. If...
February 28, 2021
Canada Launches Green Procurement
We are always pleased to see governments taking steps towards better procurement practices. Recently, the Canadian Government took a step forward for...
February 28, 2021
Not All Data Is The Same: Rules For Data Integrity.
-Ian Mackill Not all data is the same. It might have come from the same source, but how it gets treated is...
February 4, 2021
Post Brexit Procurement – What Will Change?
With the Brexit transition period officially behind us, it's worth considering the potential impacts of Brexit on Government procurement into the future....
February 28, 2021
Where Next For Data Led Procurement in Europe? A Discussion.
The They Buy For You  Project (TBFY) concluded on 31 December 2020. To mark the occasion, we look back at three years...
February 28, 2021
Spending $400bn – A Demanding Task For Biden.
-Fiona Hunt As my colleague Ian wrote this week, governments are increasingly looking to procurement to deliver better social outcomes. President Biden...
January 31, 2021
Social Procurement Demands Data
-Ian Makgill Social value is going to be a critical feature of public procurement in the coming years. The urge to 'build...
January 31, 2021
Where Are All The Small Businesses?
While 2020 was an incredibly rocky road for many businesses globally, in public procurement it was SMEs in particular who lost out,...
January 31, 2021
Are UK, France and Germany Having a Competition Crisis?
We recently completed a study of European government procurement changes in the three years up to and including 2020, to assess the...
January 31, 2021
How Long Does It Take A Department To Publish A Contract Notice?
Public sector organisations have, according to guidance, thirty days to publish details of their contracts online. So, thirty days after a contract...
January 31, 2021
Controversial Food Box Contractors Face Scrutiny
There is increased scrutiny for the suppliers of food boxes provided to the chronically ill and those asked to shelter through the...
January 31, 2021
£550 Million Missile Contract Signed.
Yesterday defence Defence Minister Jeremy Quin announced a £550 million contract was awarded for new surge-attack missile The contract award promises 'hundreds...
January 31, 2021
Time To Build More Open Products For Government
-Ian Makgill, Founder Spend Network Just before Christmas, DXC (formerly Hewlett Packard) was awarded a contract for £430,000 by the Business Services...
Newsletter
Compelling research, insights and data directly into your inbox.